Internship at Doyensec
05 Nov 2019 - Posted by Mateusz Swidniak
"Our moral responsibility is not to stop the future, but to shape it…" — Alvin Toffler
At Doyensec, we feel responsible for what the future of information security will look like. We want a safe and open Internet and we believe that hackers play an important role. As a part of our give back strategy, we want to find ways of transferring our knowledge to new generations.
Doyensec interns work alongside experienced security researchers during live customer engagements. They receive full time support from senior staff members and are encouraged to explore individual research projects. Additionally, they are included in all team meetings so they can learn and share in the different experiences arising from our work. In short, we want to provide a comprehensive experience on what it means to be a first-class security consultant in the vulnerability research space.
The internship program @Doyensec represents an opportunity to learn new infosec skills. We also hope it becomes a memorable personal experience. It lasts 2-3 months and is a mix of remote and in-person interactions.
We offer each candidate a transparent recruitment process in 3 simple steps:
1) Introductory call to understand one's motivation for applying and their availability over the upcoming months
2) Online challenges to evaluate technical skillset (web security testing)
3) Final call to discuss details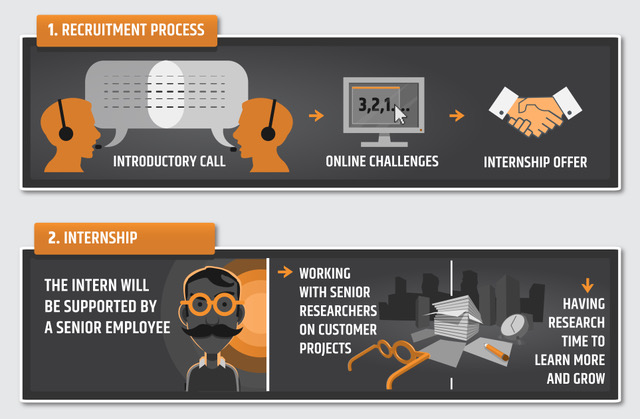 Day 1
Day one is important. Interns will be responsible for setting up their Doyensec provided machine and will be introduced to the team. They will be assigned to a senior security researcher who will be at their disposal and act as mentor throughout the entire internship. They will learn how we schedule projects, communicate, and cooperate to ensure complete coverage during our testing activities. We will provide them with all necessary equipment to perform the work. Most importantly, they will learn about our values and things that we consider crucial for delivering high quality work.
Time allocation
While the internship is considered full time over the course of 2/3 months, we did have interns who were still studying and wanted to combine both work and school. We take pride in having a flexible company culture oriented around results and our approach to the internship is no different.
"For knowledge work, time spent has little to do with value created and the forty hour workweek is anachronistic nonsense." — Naval Ravikant @naval
Work days are generally grouped into two categories:
a) Customer projects. Interns work on real-life projects. Whenever possible, we will try to match personal interest and skillset with tasks when allocating projects.
b) Research time. We strongly believe in research and practice, therefore we allow interns to spend 50% of their time on research topics. We will define goals together and provide guidance and feedback on the progress.
Testimonial
Mohamed Ouad is a student of computer science at the University of Milan. In the fall of 2018 he joined Doyensec as our second intern. We asked him a few questions to summarize his experience:
What did you learn during your internship?
"During this period I had the possibility to learn a lot of things, and not just technical stuff. For instance, I understood how to explain findings to non-technical audience and manage projects with strict deadlines."
Have you improved your skillset?
"Definitely! I improved my knowledge of Android security and got interested in Google Chrome extensions security, static code review and Electron-based apps security."
Will the internship have an impact on your career?
"This experience has given me a huge added value to my career path. I've not only learned a lot, but also created an important item in my curriculum that will be certainly useful for future opportunities. I suggest this "adventure" to everyone!"
More information on our internship program
The Doyensec internship program is open to students returning to full-time education for at least one semester. We accept candidates with residency in either US or Europe.
What do we offer:
Opportunity to perform professional security testing for both start ups and Fortune 500 companies
Ability to perform cutting-edge offensive research projects
Feedback and guidance
Attractive financial compensation
What do we expect from candidates?
Our perfect candidate:
Has already some experience with manual source code review and Burp Suite / OWASP ZAP
Learns quickly
Should be able to prepare reports in English
Is self-organized
Is able to learn from his/her mistakes
Has motivation to work/study and show initiative
Must be communicative (without this it is difficult to teach effectively)
Brings something to the mix (e.g. creativity, academic knowledge, etc.)
In contrast to full-time positions (we are always hiring web and mobile pentesters!), a good attitude is the most important factor we are looking for.
Do you want to join Doyensec as an intern? Send your resume to hiring@doyensec.com!